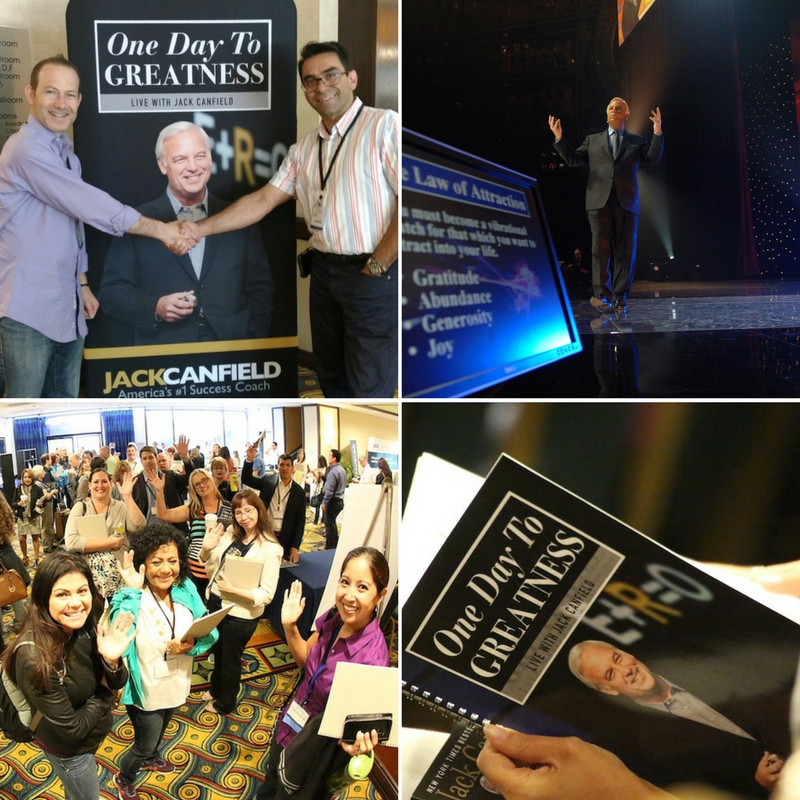 Self-improvement has always been a cornerstone of who I am.
That's why I'm so excited for this giveaway: a chance to win a ticket (valued at $149) to Jack Canfield Live: One Day to Greatness on October 23!
Jack's book "The Success Principles" has helped to change my perspective and I feel it's helped me achieve positive results both personally and professionally. Jack is high energy, but a little more tame than Tony Robbins. He's a great speaker and I know it will be a valuable experience as well as a lot of fun.
What to Expect
Learn how to take your career, your income, and your personal life to the next level in this rare one-day workshop with NY Times bestselling author and award-winning speaker, Jack Canfield!
You'll discover the proven success-building techniques that CEOs, world-class athletes, celebrities and everyday people around the world have used to propel themselves to incredible heights of personal achievement – and how to use these principles to dramatically improve results in all areas of your life.
Jack is a true master who has helped hundreds of thousands of people achieve success, increase their confidence, live with purpose, and realize their dreams—NOW IT'S YOUR TURN!
The event takes place on Tuesday, October 23 at the DoubleTree by Hilton Hotel Denver (3203 Quebec St., Denver, CO 80207 — click for Google map)
Registration and check-in go from 7:30 a.m. to 9:00 a.m. Part 1 of the One Day to Greatness session runs from 9:00 a.m. to 12:30 p.m. There's a break from 12:30 p.m. to 2:00 p.m. for lunch on your own, and then Part 2 of the session runs from 2:00 p.m. to 5:30 p.m.
How to Enter the Giveaway for Your Chance to Win
I have set up a quick and easy Google Form you can complete to enter the giveaway — here's the link. All that's required to enter are your name and email address. We will only use your email address to contact you if you are the winner. If you'd like an additional entry, there's an area on the form where you can give us permission to add you to our once-monthly newsletter mailing list.
Curious What Your Home is Worth?
Check Out Homebot for Free!
Summer is typically the "hottest" homebuying season here in the Denver metro area, but demand remains strong throughout the rest of the year. If you're curious about what your home is worth, check out Homebot for free.
Get a monthly "wealth snapshot" of your home
Understand when to refinance
See what you might earn from short-term rentals (as permitted by your municipality and HOA)
See what you could afford when purchasing a second home or trading up
Understand your mortgage — interest vs. principal
Understand when you can drop mortgage insurance
See how much you could save in interest by making extra payments toward the principal
Know your total cash-out power
Contact me at 303-204-6494 with any questions about your Homebot report or if you're ready to start the sales or purchase process.